Lennart's travel journal, FinnPEZ 2015

FinnPEZ 2015 was my very first PEZ convention, which I attended with my good friend Silvia. It was a trip full of fun, adventures, great people and of course... lots of PEZ :)
The journey started on May 16th at 6am, when I left my house and met Silvia at the harbor. After 2,5 hours of clucking in the WIFI-less ferry, we finally arrived in Helsinki, Finland. The first impression was breathtaking - the city was so beautiful. We ordered a taxi, and got to the fabulous hotel called Park Hotel Käpylä. The architecture of the city got us photographing the whole way to the hotel.
After we had set up our tables, we got a very warm welcome from the FinnPEZ crew and started to mingle with other collectors by trading and selling PEZ. It was so fun! I made many new friends and got myself loads of new dispensers. Throughout the event, we got some coffee & light refreshments to keep ourselves going!
The most fun parts of the event were the games. Sadly, due to my exams, I did not manage to take part of the 'Pimp My PEZ' competition, but the Pez's that other collectors had decorated were simply stunning. I will take part of this in 2016 for sure! Also, we played FinnPEZ lotto, which was also very fun. I won a PEZ drinking bottle - what a great addition to my collection!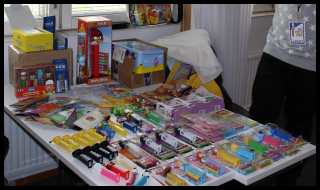 At noon, we had lunch at the hotel's restaurant. The meal was simply delicious.
When the event was over, we took a train to the Helsinki Centre, and hung out in the city for a couple of hours. Helsinki is a city to discover for sure - we went to the train station and walked through the old town. It was so beautiful. We enjoyed the good food and the shopping centres with lots to offer.
In the evening, we took a bus to Vantaa, where my sister lives, and stayed the night at her place. We watched a movie and took a brief look at the amazing stuff we had bought earlier.
The next day we woke up at 8am and took a bus back to Helsinki. Of course, we got off the bus too early so we had to walk a bit, but we made it to the harbor just in time. The boat trip back to Tallinn, Estonia went nice and easy.
I can't wait for the FinnPEZ 2016 to start, because it will be a 4-day trip for us and I believe that lots of great adventures are waiting for us in Helsinki in May! I recommend all of you to come this year, because FinnPEZ is a unique event, where you can meet lots of great people and most importantly.. have fun! :)

Lennart Pez

lennartpez (a) gmail.com