Experiences from the 7th FinnPEZ event, April 2013

from bill heltemes burlington ky, usa:
well it's been a month now since the finnpez event and i thought i'd write a few words on the time i had at finnpez 2013.
i had a blast! there, those are my few words… seriously though, please read on.
i've never traveled outside the u.s.a with the exception of canada, and in reality, that is just u.s.a. 'north' to many of us citizens of the u.s.a. i didn't know what to expect when i landed in stockholm for my flight to helsinki. the experience was wonderful. wishing though that i would have had a little more time to look through the stockholm airport marketplace.
after i landed in helsinki, i was met by pirkka and markku at the airport. we traveled by car up to tampere. we talked the entire way there, talking pez and stories of our lives.
friday people started arriving at the hotel and it was fun meeting people and talking in the hotel lobby. after dinner, it was time to go to the meeting room and set things up.
since i've been looking at pictures of finnpez over the years (in awe, i might say!), i knew what to expect in how each dealer displayed and sold their particular pez items. i was shown my table and started arranging things. i had my pez priced before arrival; but it was pointed out to me more than once that what we consider a '7' in the states is actually a '1' in europe. i quickly changed some of my prices to reflect the '7' with a line through it! i really didn't want to sell a maja for example, for 15euro!
showday saturday, was full of fun for me. everybody shopped and traded pez, exchanged greetings. i was interested in everyone's life and they were interested in mine. the fun & games was a hoot . the lotto game was great. when i won, the euro pencil bag was still available and i picked that as my prize. too bad yasin was the last to win. i was impressed with all the entries in the 'pimp my pez' contest. though the one i voted for didn't win, they were all very creative. maybe finnpez should do this contest every year!?!
i didn't buy many pez; but one i did get was the green nivea truck. i've been desiring that for quite awhile and was glad it was available for purchase. buying that 1 truck pretty much shot my pez budget. but that was okay, i now owned something i thought i'd never own.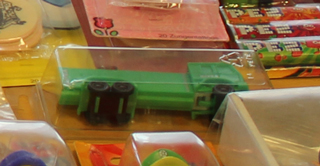 later saturday evening, many of us went to dinner. the food was great. i had reindeer, which i had never eaten before. the meat was tender and juicy and i really liked it. it was odd that my dinner came with a large helping of pickles. that doesn't happen here in the states. it was a great time just sitting around and enjoying each other's company.
i stayed in finland through tuesday morning. my flight out was early. had a great time sightseeing, thanks to pirkka and markku for being my tour guide.
finland was a great country to visit. i loved every minute of my time there. everyone was friendly and very helpful to me, an obvious foreigner/tourist. my favorite drink, mountain dew, was available. it was interesting tasting the difference between our countries flavor and that of europe.
i really hope to return to finnpez in the future. i'm sure it won't be next year; but i'm already thinking about trying to attend the 10th anniversary of finnpez.
just a couple last words on finnpez. i flew 4200 miles one way to attend finnpez. it was worth every minute of being crammed into planes and then having to rush through the aiport to get to my connecting flight. i sincerely invite you to consider attending finnpez. to me, it was worth every minute of the long travel and every dollar i spent to attend. pirkka & markku put on a wonderful event.

thanks.

bill heltemes
(mrnkypezhed (a) fuse.net)